Going to visit Japan? This is a stop you must try to make on your journey. Tourist from a round the world are flocking to Yufuin Floral Village featuring some beloved famous story characters. It has a real life bakery shop from fantasy anime film Kiki's Delivery Service. There is even a hotel where the staff dress in fairytale costumes. This is a recreation of an English hamlet with themes from Peter Rabbit and Alice in Wonderland. Do enjoy this experience, Do not forget to visit the bakery.
When you visit this website it is like stepping through the screen of your computer to visit this village. Click on the pictures to visit this site.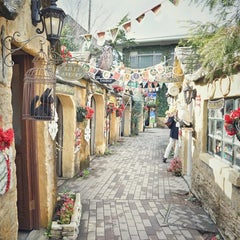 Enjoy walking down the street and enjoying the ambiance of an English village in Japan.
Click
HERE
to visit web site.